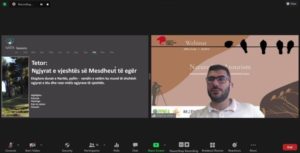 Our team together with partner NGOs and institutions successfully carried out a webinar dedicated to nature-based tourism as well as the great potential that the Albanian network of protected areas has to offer for conducting this environmentally-friendly model of tourism.
Part of this webinar was national and international experts who discussed nature interpretation, birdwatching, sustainable tourism, as well as the management of protected areas in Albania.
The participants had the opportunity to learn more about the main concepts of nature interpretation while identifying the best ways for integrating these concepts into the everyday work of tour operators and local guides.
Through a presentation held by the representatives of RAPA Vlore, the participants explored a series of ecotourism activities that can be carried out inside the protected areas, such as birdwatching, which was also the core theme of the presentation held by the representatives of the Bulgarian Society from the Protection of Birds.
Watch the webinar at this 
link
.