Vjose – Narte Protected Landscape
This bird paradise is only 150 km away from Tirana. Most of the road will be spent on highways, but once you will stop at the entrance of the protected area, the terrain will get bumpy.
There are several ways how you can access Vjose – Narte Protected Landscape. The easiest option is to enter at the Saline area across the Fier – Vlore highway, exactly by taking a right turn at the underpass located in the village of Panaja. Just as you turn right, you will see an informative billboard welcoming you to the protected area.
Once you got there, prepare yourself to enjoy the countless bird species around you, which can be seen even without telescopes or binoculars.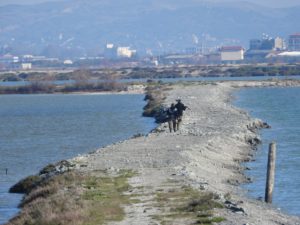 © PPNEA